Stilt Walkers with Style
Stilt walkers make for great roving entertainment and add ambiance to any party! Our interactive stilt walkers help to liven up any event. We offer a unique range of costumes, characters, and custom creations.
Indigo Circus specializes in stilt walking characters that delight both children AND adults. We focus on playful character interactions with guests as well as elaborate costuming that create great photo opportunities for your attendees. Check out some of out signature characters and previous work below!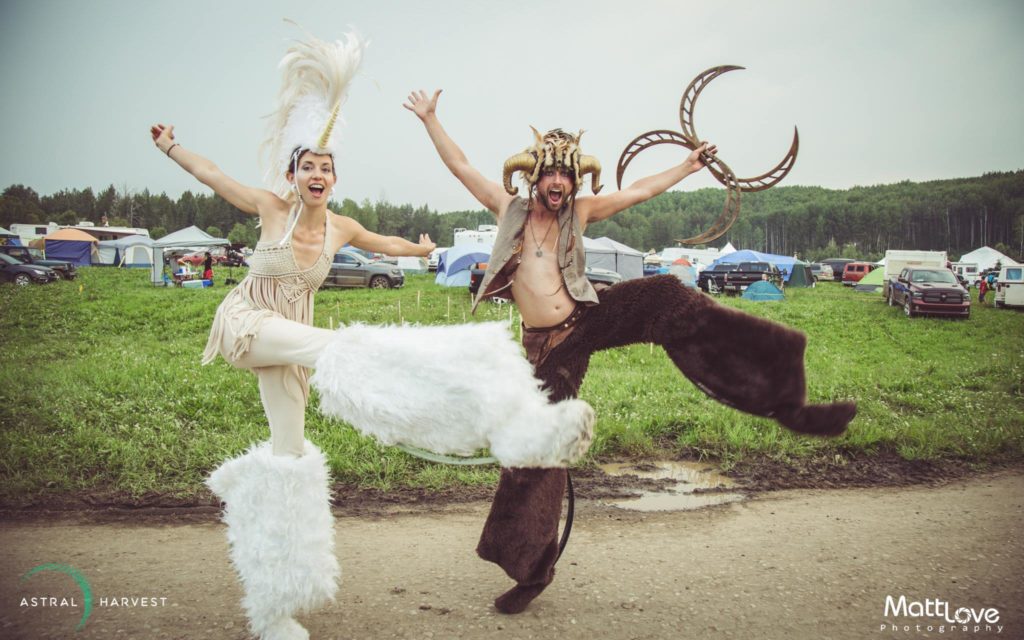 We put together the custom Satyr Stilt Walking character several years ago for the Brooks Medieval Faire. After he became so popular we wondered if perhaps he might want a friend to hang out with as well. And so, The Unicorn was born!  This adorable couple bounce around your event, interacting playfully with both adults and kids alike. Great for a photo opportunity or to bring a bit of Narnia and mythical life to your event, these characters are sure to bring smiles to your guests.
Some Previous Events:
Brook Medieval Fair (2015, 2016, 2017)
Unicorn at Diner en Blanc (Calgary)
Drumheller Canada Day Celebrations
Astral Harvest Festival
Lethbridge Whoop Up Days
Suncor Family Day Celebrations
Testimonials:
"The Stilt Walkers were worth every penny. The kids loved them and we'd love to have them back again next year. The unicorn headdress was beautiful and the kids had so much fun!"
– Judy Quintin-Arvidson, Town of Drumheller Valley FCSS
The Butterflies & the Butterfly Catcher!
Indigo Circus is known for their creative creatures and our butterfly has been all across Alberta, spreading her wings and making kids smile along the way.  You can now book a Mona the Monarch Butterfly and a Raina the Rainbow Butterfly together if you'd like to bring in twice the fun! We also have Chase, the butterfly catcher, who is always trying to catch butterflies. These characters together create fun comedy interactions and theatrical scenes right in front of your guests!
These characters can be paired as two butterflies or as a butterfly and a butterfly catcher.  Watch as the kids run around trying to help the catcher find the butterfly while other kids try to hide her, "no she went that way!!"  🙂
Some Previous Events
Telus Spark Movie Launch
Whitecourt Children's Festival
Bonnyville Canada Day Celebrations
Lethbridge Children's Festival
Spruce Meadows, Calgary
The Calgary Zoo
First there was The Satyr. Then there was The Unicorn. NOW… There are DRAGONS!!   These stilt characters utilize the bouncer stilt style to create their unique creature leg shape. Don't worry, these dragons aren't dangerous.
These dragons can be paired together or paired up with our Unicorn character as well. Each pairing have their own fun and unique character interactions with each as well as with guests. Watch as the Dragons create a crowd of children all learning how to make their biggest "ROOOOAAAAAARRR!!!!!"  sound that they can.
Some Previous Events
Lethbridge Whoop Up Days
Centrefest, Red Deer
Our Galaxy Girl character was such a success last summer that we've upgraded this character to be bigger and better and a new shiny and epic costume. Joining her will be an epic robot stilt walker. This pair will make kids squeal and shout as they shoot BUBBLES from their BUBBLE GUNS!!!  These characters use bubbles during daytime events and LED props for indoor and evening time sets.
Previous Events:
Whitecourt Canada Day Celebrations

Centrefest, Red Deer

Astral Harvest Festival

GoWest Conference
Hyper Girl and Sleepy Guy
This theatrical and comical pair includes a brother sister duo. Hyper Girl is a big ball of energy while her sleepy brother can barely get out of bed!! "It's time to get up!" We've all had days where we've slept in and this duo create a comedic scene for both kids and adults.
Some Previous Events:
Alberta Rural Tourist Conference
Pick a colour, any colour!!
Want a custom stilt character to match your event or company colours!? We've got ALL the colours of the rainbow and can create a custom stilt walking character just for your event. Have your stilt walker wear all one colour or mix and match several colours. Maybe you'd like one stilt walker that's all red and a second stilt walker that's all blue. Whatever your heart desires; we can bring to life!     🙂
Some Previous Events:
Killam Carnival (Red & Teal)
Calgary Pride Party with Bassbus (Rainbow)
Servus Record Setting Celebration (Green & Blue)
Celebrate the holidays with our holiday and Christmas themed stilt walkers. We have some of the tallest elves around! Looking for something less red and green? We've also got Winter Wonderland themed characters as well!
Some Previous Events:
Banff Santa Clause Parade
Precision Drilling Christmas Party
Any Theme is Possible!
Our theme party entertainment, roving performers, and interactive characters add ambiance to any event!
We can provide a range of skills and acts available for roving, ambient and podium entertainment. We can also create one-of-a-kind costuming to match your theme.
If you can dream it, we can make it!
Arabian Nights
Christmas
Circus / Carnival / Cirque
1920's / 1960's
Fire & Ice
Hawaiian Luau
Las Vegas Showgirls
Medieval
Mardi Gras
Moulin Rouge
Winter Wonderland
Western
Under the Sea
And many more; just ask!